Gallery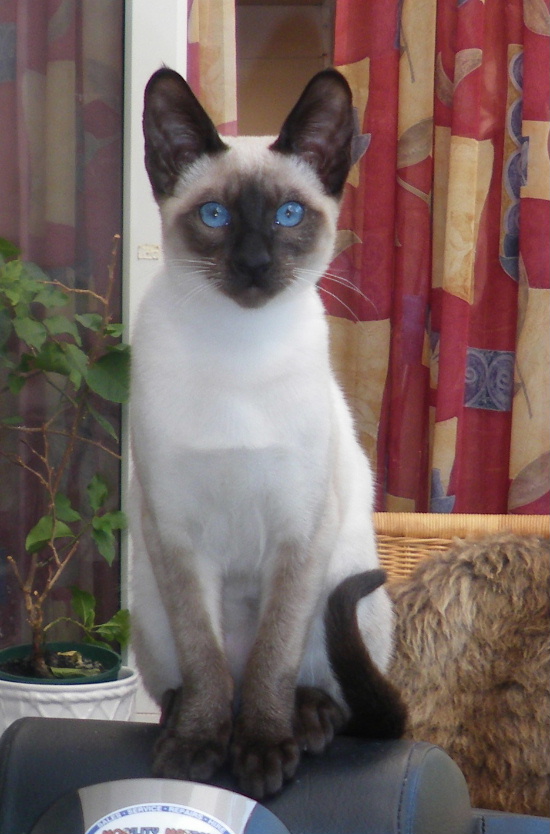 This is Wicca Kazem. He is by Sandypoints Sir Alexi and out of Wicca Ly-chee. He is nearly 4 months in the photo and will be shown at GCCF and TICA shows Isn't he gorgeous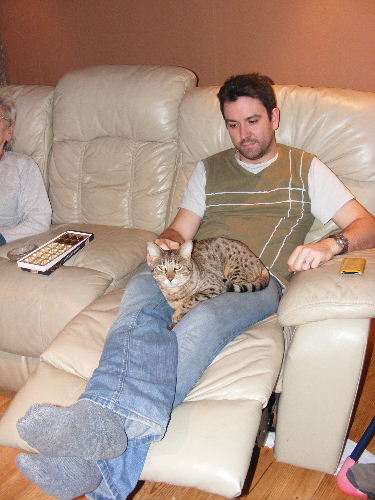 This is Goldrush, F3 living a happy retirement with Martin and Amanda. Goldie was a tetchy breeding queen but love and patience has turned her into a lap cat.
.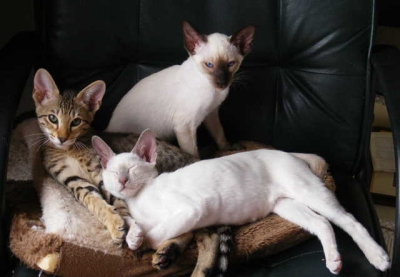 Moonfruit Danso, Wicca Akira and Denson Tristan Farnon.
This is wicca Choochi, a lovely seal point traditional siamese boy, living on the Isle of Man with Sharon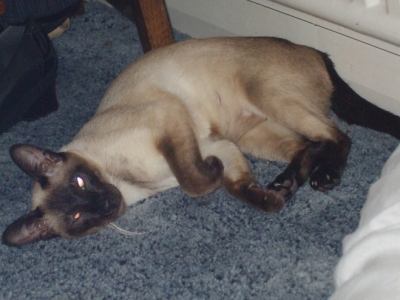 My darling Lou-e Woo
This is Klyde, F3c son of Amber and Limo Togo living with Kong F3c and Kimba F1(75% serval) together with Simon in Devon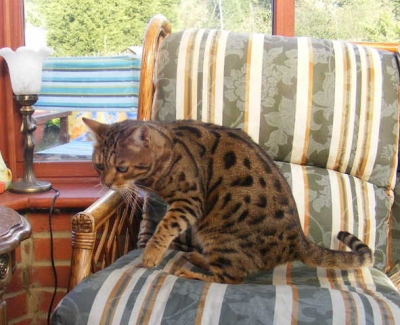 Arrie is my ex Bengal stud. He was a prolific sprayer and upfront breeding boy. He is proof that ex studs make good pets. He has never sprayed in his new home and enjoys life in the countryside with Mike and Sylvia.
Saffie, (F3 Bengal) with her son Pip enjoying life in the country with Ted and Sue
Tricky Woo, (Denson tristan Farnom) settling into his new life as a pampered cat with his son Chang. They are now living with Cristina and Khalid in Hornchurch, Essex
Here are Sui-Lei and Akira. They went to Kingsgate, nr Margate to a wonderful home with Anita and Eddie, commited siamese lovers.They have a lovely enclosed rear garden to explore and two willing slaves at their beck and call, what more could they want.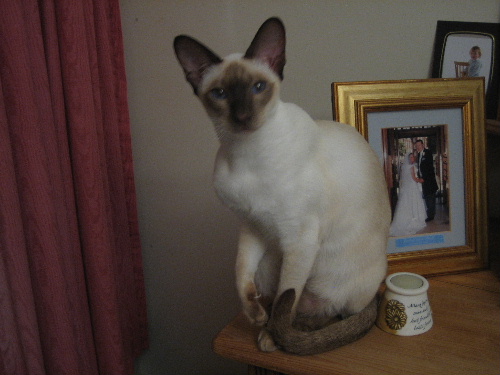 This is Saffie, daughter of Yoko and Ocsar. My thanks to Lesley and Dave for send news of her exploits, I cannot believe how much she looks like her mother.
This is Orlando, son of Sui-sui and Ocsar proving that it is not only Savannah cats that are agile and adventurous, thanks Kelvin for the amusing photo.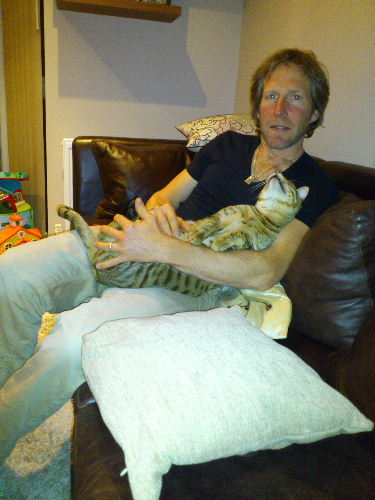 These two photos are from the Gray family who adopted my ex stud Elixir. As you can see he has settled in very well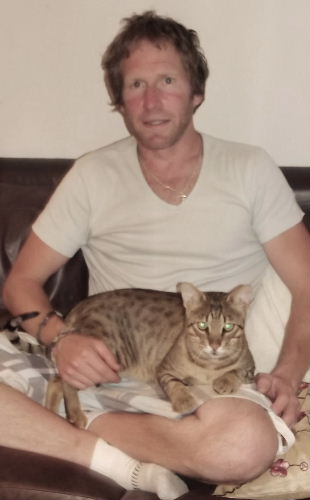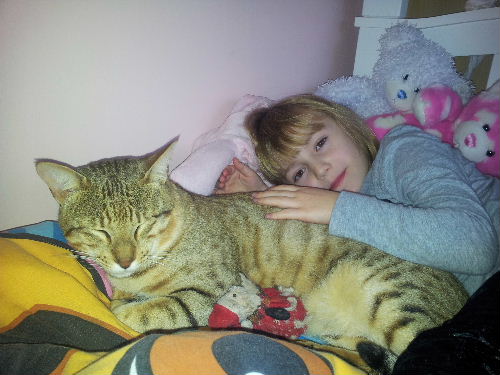 The above two photos are of my other stud, Bwindi. He did not like a stud life and showed no interest in mating. Not all male entire cats are suitable, regardless what we humans believe. He is so happy now with his new family and has made the perfect family pet. I thank Daniel, Karen and children for giving him this wonderful home where he is cherished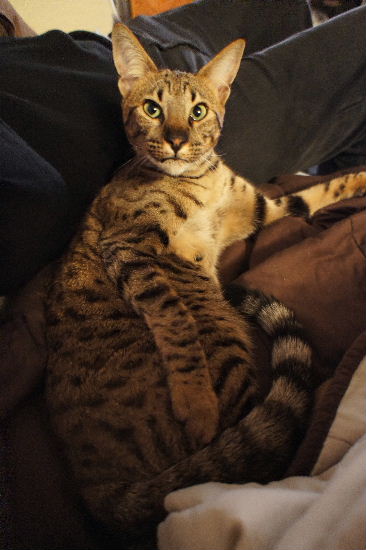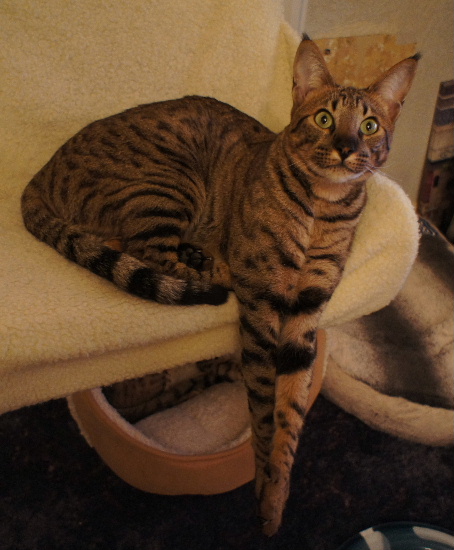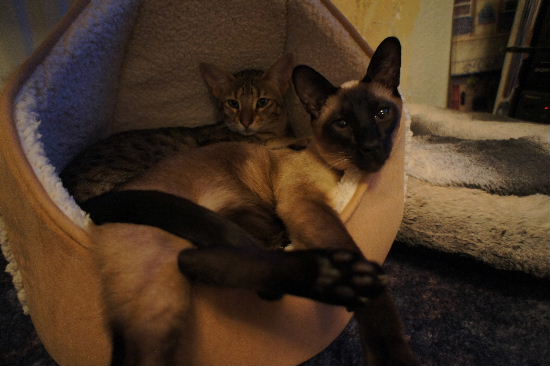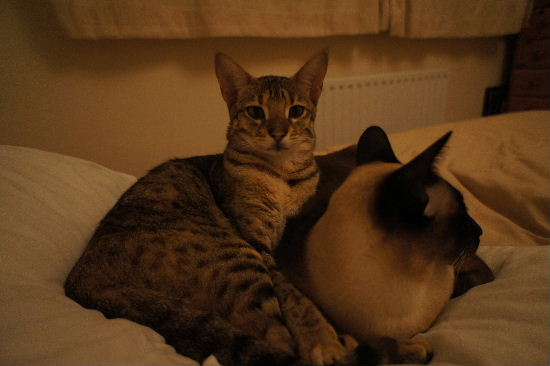 The four photos above are of two F3 girls and one seal siamese boy. They have a wonderful life in Chessington with Sara, Dana and Simon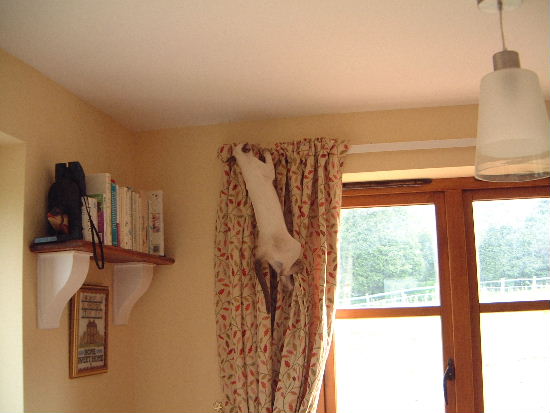 This is Lui-lui, daughter of Ocsar and Sui-sui reaching the summit, ah bless, new curtains. Thank you Cliff and Susan for sending this lovely photo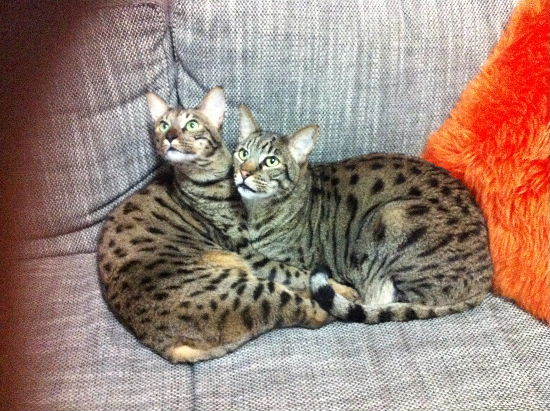 These savannahs are brother and sister. They are living in Malta with Nicole and Richard. They are F4s, by Limo Togo and Goldrush, the queen in the first photo on this page.
This is Cradlebridge Ocsar enjoying his retirement with his foster mummy Jo-anne. Ossie never sprayed as a stud, he used the toilet to do wee's and his litter tray for his poo's. He has lived with Jo-anne since reaching puberty and she now has my young stud Mongkut keeping Ossie company. They have a good life as studs, living in a family home with access to a secure garden. Ocsar is neutered, look at that belly, OH!!!